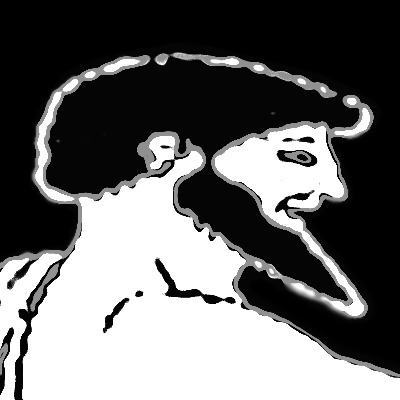 Ion
by Plato
Directed by Tony Tambasco
Featuring
Joseph O. Grabon as Ion
Jordan Gullikson as Socrates
Our premiere performance of Plato's Ion streamed live on July 10th and 17th, 2021 at 8 PM, and July 18th, 2021 at 2 PM (All times EDT), and subsequently on August 30th, 2021 at 7 PM as part of the second annual Thornhill Theatre Space virtual fringe festival (#TTSFringe2).
Ion was a benefit performance for the Off Center for the Dramatic Arts. Please consider making a donation: supporting the Off Center means supporting independent theatre and performance art in northern Vermont.
You may watch an archival recording made from Agora Theoria's 18 July 2021 performance of Ion below.
The Company
Joseph O. Grabon (Ion) has a BA in Jazz/Commercial Music from Northern Vermont University, but has been active in theatre for most of his life. Previously he's played the role of Crumpet the Elf in David Sedaris's The Santaland Diaries, Dr. Frank N. Furter in The Rocky Horror Show, Adam in Someone Who'll Watch Over Me, and many other roles. You can also find him performing music in Vermont as a solo artist and with his band, The Village Idiots.
Jordan Gullikson (Socrates) is an actor, playwright and director. Past roles include Big Jim in the rolling world premiere of Doublewide, Roberto in The Last Wide Open, and Thomas in Venus in Fur at Vermont Stage Company. Other roles include Hyde in Dr. Jekyll and Mr. Hyde with Middlebury Actors Workshop, Frank in School for Lies at Waterbury Festival Players, Doug in Gruesome Playground Injuries at Off Center for the Dramatic Arts, and Hamlet in Champlain Theater's Hamlet. Jordan directed The Curious Incident of the Dog in the Night-Time for Vermont Stage Company, among others. Jordan attended the Neighborhood Playhouse School of the Theatre, studying with Ron Stetson, Richard Pinter and Sanford Meisner. Jordan is also a glassblower and poet and is a teaching artist with Vermont Stage's Vermont Young Playwrights program.
Tony Tambasco (director) holds an M.F.A. in directing and an M.Litt. in Shakespeare and Performance from Mary Baldwin University's partner program with the American Shakespeare Center. Some recent credits include Philip Massinger's The Unnatural Combat with Sweet Tea Shakespeare, Marty Madden's "Father's Playing Catch with Sons" with Almost Adults, and Stranded: Views from Quarantine with Pride Performing Arts Academy (assoc. to Phyllis Kaye), all of which have been streamed during the pandemic. Tony is a proud Associate member of SDC, the union of professional stage directors and choreographers, and of the Society for Classical Studies. More at TonyTambasco.com. Thanks to Joe and Jordan for this journey!
Plato (author) was an Athenian philosopher during the Classical period in Ancient Greece, founder of the Platonist school of thought and the Academy, the first institution of higher learning in the Western world. Unlike the work of nearly all of his contemporaries, Plato's entire body of work is believed to have survived intact for over 2,400 years. Although their popularity has fluctuated over the years, Plato's works have never been without readers since the time they were written. More at wikipedia.org/wiki/Plato
About Plato's Ion
Our thoughts on the dialogue
Written by Plato around 380 BC, Ion is one of Plato's shortest dialogues. Scholars have not traditionally regarded Ion as a significant dialogue, but it is the only dialogue in which Plato articulates a philosophy of aesthetics. While Plato does discuss the role of poetry in Republic, it is there in the context of the utility and danger that poetry poses to governance, but in Ion poetry (and what we would consider the performing arts, by extension) Plato wrestles with a problem any artist today is familiar with: good technique does not ensure good art.
It's easy to forget that modern actor training is only about a century old, and that psychology isn't much older. Actor training was, before Stanislavski, largely the domain of apprentices learning to immitate the work of their masters, with or without an understanding of how to create aesthetic experiences for their spectators. Shakespeare's "advice to the players" (Hamlet 3.2) is often cited as an example, but it begins with Hamlet enjoining the players to "Speak the speech... as I pronounced it to you" before giving any advice. We are better equipped to answer Socrates' questions than Ion is, or any generation of actors has ever been before us, but as the lived experiences of the performer form the basis of nearly every major school of actor training, we also can't dismiss Socrates' questions.
The views on poetry that Plato expresses in Republic often form the basis of understanding Plato's aesthetic system: poetry and theatre are dangerous to the functioning of the state, and would be almost entirely banished from an ideal society. But John Herman Randall Jr. argues in Plato Dramatist of the Life of Reason that Republic should be better read as a critique of Spartan society for those who would emulate it, rather than Plat's attempt to argue for a Super-spartan state. And it is noteworthy that Plato uses the same language to speak of love in Symposium that he uses to speak of poetry in Ion: sometimes deploying the exact same phrases, which lends credence to Randall's argument.
As we have explored the questions and answers that both Ion and Socrates pose in Ion, our company has wrestled to answer them in light of the last 2,400 years of knowledge that we've gained. It is our hope that our production of Ion will provoke similar discussion and debate.
Ion streamed live on July 10th and 17th at 8 PM, and July 18th at 2 PM. All times EDT. Ion is a benefit performance for the Off Center for the Dramatic Arts. The running time of Ion is about 40 minutes.
About the characters
Ion is a rhapsode - in his opinion, the best in Greece, who specializes in performing the works of Homer. Rhapsodes were poets who performed the poetry of other poets: loosely akin to modern spoken word artists. At competitions, they would regularly perform a larger work (such as the Iliad or Odyssey) in relay: drawing lots for which section they would perform, and another rhapsode beginning where one left off. In these competitions, rhapsodes were expected to perform from memory, and were judged on their accuracy. Rhapsodes were also judged on their ability to "interpret" the poetry they performed, which most scholars take to mean as rhapsodes offering critical commentary on the meaning of the poem as part of their performance, but since performance is an act of interpretation, interpretation may have meant the performance itself.
As far as we know, Plato didn't base Ion on a real person in the same way that he did with Socrates, and this has lead to some interesting questions about whether Ion should be interpreted as being representative of a rhapsode, rhapsodes generally, or more broadly as the representative of a school of thought. John D. Moore has argued that, in this dialogue, Ion represents the Iliad itself (the subtitle for Ion is "on the Iliad," afterall), and the cultural capital that Homer has in Plato's Athens: Ion is a stand in for the belief that Homer is the best word on warfare, and Plato's dialogue deconstructs that belief.
Socrates is considered to be one of the founders of Western philosophy, although he left no extant writings, and most of what we know of him comes from the descriptions we find in his student, Plato. Socrates developed a reputation for challenging the beliefs of powerful men, and the beliefs on which they built their power. To some degree, the Socrates that we encounter in Plato's dialogues must be considered as much an invention of Plato as the Alexander Hamilton we encounter in Hamilton must be considered an invention of Lin Manuel Miranda, but some of what Plato wrote of Socrates is corroborated by other writers.
Two views of Socrates are common: one extreme views him as almost a pure logos, a saintly, wise, dispassionate seeker of Truth (with a majuscule "T"); the other extreme views Socrates as an irrascible man who delights in punishing the stupid and corrupt for their stupidity, and shaming them in public. Our view is that Socrates is more human than either of these extremes treats him. When, in Ion, Socrates tells us that he is jealous of the fame and fortune Ion and other rhapsodes enjoy, we think we should take him as much at his word as when Socrates calls Ion his friend, and speaks with reverence for the divine inspiration that Ion and other poets are blessed with.
About our translation
Our translation is based on (and largely consists of) Benjamin Jowett's translation (which is in the public domain). We have sometimes deviated from Jowett's translation, in consultation with Rijksbaron's critical edition of Ion and Liddell & Scott. We were motivated to choose alternate readings when Jowett's word choice seemed to us either unclear or dated, or when a more evocative choice of English words seemed better suited to performance.
About our process
Our production of Ion began as a reading group in June of 2020. When the COVID-19 pandemic shut down theatres, theatre artists moved online and we had the first meaningful formalistic debate about the nature of theatre in 50 years. Joe, Jordan, and Tony turned to some of the fundamental questions about what theatre is and why we attend it in response to these questions, and began a weekly reading group to help us better prepare for coming up with practical answers to those questions in our work.
After studying Ion as a work of philosophy, we turned to what we knew and explored it as a work of theatre to explore how that might inform our reading of the dialogue. As with our previous work with great playwrights, we found that the process of performance informed, and often changed our view of the meaning of Ion, and we decided it was important to share the results of that work with an audience to extend the conversation.
While we were unsure what form sharing that work might take, we felt strongly that we wanted to share it to engage with others in the conversations we were having. As tempting as it was to wait until we could perform live in a public venue, we have all found community in the virtual forums that were with us before the pandemic: they have not only enabled our collaboration on Ion, they have also allowed us to share our work beyond the physical communities in which we usually live and work.
Further reading
Altman, William H.F.. Ascent to the Good: The Reading Order of Plato's Dialogues from

Symposium

to

Republic

. Lexington Books, 2018.
Aguirre, Javier. "'Téchn

e

' and 'Enthousiasmós' in Plato's Critique of Poetry." Revista Portuguesa De Filosofia 72, no. 1 (2016): 181-97. Accessed May 23, 2021. http://www.jstor.org/stable/43816280.
Boyd, Timothy W. "Where Ion Stood, What Ion Sang." Harvard Studies in Classical Philology 96 (1994): 109-21. Accessed May 23, 2021. doi:10.2307/311317.
Dorter, Kenneth. "The Ion: Plato's Characterization of Art." The Journal of Aesthetics and Art Criticism 32, no. 1 (1973): 65-78. Accessed May 23, 2021. doi:10.2307/428704.
Gentile, John S. "Defending Ion: A Contemporary Rhapsode Replies." Storytelling, Self, Society 4, no. 2 (2008): 152-62. Accessed May 23, 2021. http://www.jstor.org/stable/41949008.
Halliwell, Stephen. "Plato, Poetry and the Problems of Hermeneutics." In Reflections on Plato's Poetics: Essays from Beijing, edited by Benitez Rick and Wang Keping, 39-54. Australia: Academic Printing and Publishing, 2016. Accessed May 23, 2021. doi:10.2307/j.ctv10kmfwd.9.
LaDrière, Craig. "The Problem of Plato's Ion." The Journal of Aesthetics and Art Criticism 10, no. 1 (1951): 26-34. Accessed May 23, 2021. doi:10.2307/426785.
Liddell, Henry George and Robert Scott. A Greek-English Lexicon. Oxford, Clarendon Press, 1996.
Liebert, Rana Saadi. "Fact and Fiction in Plato's Ion." The American Journal of Philology 131, no. 2 (2010): 179-218. Accessed May 23, 2021. http://www.jstor.org/stable/40730812.
Moore, John D. "Limitation and Design in Plato's Ion." Pacific Coast Philology 8 (1973): 45-51. Accessed May 23, 2021. doi:10.2307/1316738.
Pappas, Nickolas. "Plato's Ion: The Problem of the Author." Philosophy 64, no. 249 (1989): 381-89. Accessed May 23, 2021. http://www.jstor.org/stable/3751473.
Partee, Morriss Henry. "Plato's Banishment of Poetry." The Journal of Aesthetics and Art Criticism 29, no. 2 (1970): 209-22. Accessed May 23, 2021. doi:10.2307/428602.
Randall, John Herman. Plato: Dramatist of the Life of Reason. Columbia University Press, 1970.
Ranta, Jerrald. "The Drama of Plato's Ion." The Journal of Aesthetics and Art Criticism 26, no. 2 (1967): 219-29. Accessed May 23, 2021. doi:10.2307/428457.
Rijksbaron, Albert, ed. Ion or: On the

Iliad

. By Plato. Leiden, Brill, 2007.
Russon, John. "Hermeneutics and Plato's Ion." Clio 24, no. 4 (1995): 399 - 418. Accessed May 23, 2021. https://www.academia.edu/236121/Hermeneutics_and_Platos_Ion.
Spencer, Albert R. "The Dialogues as Dramatic Rehearsal: Plato's Republic and the Moral Accounting Metaphor." The Pluralist 8, no. 2 (2013): 26-35. Accessed May 23, 2021. doi:10.5406/pluralist.8.2.0026.
Stecker, Robert. "Plato's Expression Theory of Art." Journal of Aesthetic Education 26, no. 1 (1992): 47-52. Accessed May 23, 2021. doi:10.2307/3332726.
Stern-Gillet, Suzanne. "Hesiod's Proem and Plato's Ion." The Classical Quarterly 64, no. 1 (2014): 25-42. Accessed May 23, 2021. https://www.jstor.org/stable/26546282.
---. "On (Mis)interpreting Plato's Ion." Phronesis 49, no. 2 (2004): 169-201. Accessed May 23, 2021. http://www.jstor.org/stable/4182748.
Weineck, Silke-Maria. "Talking About Homer: Poetic Madness, Philosophy, and the Birth of Criticism in Plato's Ion." Arethusa 31, no. 1 (1998): 19-42. Accessed May 23, 2021. http://www.jstor.org/stable/26309677.
From the director...
Ion haunts me. I don't think I've ever heard and argument that Ion is Plato's most important dialogue, or even among his most important, but for anyone who works in the performing arts, it cracks the heart of what we do. Any performing arts instructor will tell you that they can't teach you artistic success, only artistic technique: but if the technique is insufficient to create success, what good is it really?
In Plato's Ion, Socrates asks the rhapsode Ion to explain the nature of his ability to perform the works of Homer exclusively, and Ion is unable to do it. If Ion performed the Iliad and Odyssey by any sort of skill, argues Socrates, he should be able to perform the works of Hesiod (for example) just as easily: Ion's inability to do so testifies to the fact that he does not perform Homer by skill, but instead by divine inspiration. Ion protests this, but he is, at the end, unable to say exactly what skill it is that he has that is particular to being a performer of Homer.
Socrates isn't the best listener in this dialogue. Socrates tells Ion that, like someone possessed at a religious festival, Ion is completely taken out of himself when he is in the middle of performance, and Ion protests the point – he is always partially in control of his performances, and has to be in order to tailor his performance for a specific audience if he wants to get paid, but Socrates glosses over this and continues to push his thesis that Ion can't possibly be in control of his actions.
Admitting the performer has any conscious control over the performance admits the possibility that performers may be skilled rather than inspired, and Socrates is too in in love ("inspired," to use the language about love that Socrates uses in Symposium) with his theory to fully consider or comprehend what Ion is telling him.
The genesis of our current approaches to theatre are in approaches developed from the late 19th and early 20th centuries. Most notably, Konstantin Stanislavsky sought to create a system for average actors to use for creating performances on the same level as Eleanor Duse without her natural (or supernatural) gifts. We have been following in his footsteps ever since because his basic approach is more successful more often than the previous systems of apprenticeships that focussed on copying the work of a master actor, and perfecting the performance of certain types of characters in broad strokes.
Yet we still can't teach someone artistic success. Here I need to qualify that I don't mean professional success only, but rather the ability for any one to follow a system of actor training, practice the lessons diligently, and being able to apply their training in a predictable way to create a predictable result in the same way that we expect other skilled professionals to do (like physicians or drivers, to use some of Socrates' examples from Ion). While artists are used to thinking about artistic success as different from professional success, if artists are skilled professionals on the same order as physicians and drivers, shouldn't professional success naturally follow from artistic success? Is artistic success, as differentiated from professional success as a theatre artist, effectively a participation trophy we give ourselves for not making more money?
And, moreover, do theatre artists do ourselves a disservice in talking about our work in spiritual terms? The experience of seeing a play is often described as "church," or "communion," and practitioners often speak of the "magic" that takes place in rehearsals. We talk less about the psychological processes of creating empathy, the hours of rehearsal to thoroughly understand a dramatic text and create nuanced interpretations of it, and the other technical aspects of our craft, I think, because like Ion, we rather like the idea that there is something holy about what we do.
The muses, of course, do not actually exist. Where Stanislavsky may have democratized the profession of acting, wealth, privilege, and access have taken the place of the holy touch of the muses in determining successful professional outcomes. Very often, whether you get a job depends on whether you've made friends with a producer (or artistic director), and your ability to do that usually depends on whom you're already friends with. Thinking about the work of performance in spiritual terms keeps us from considering Ion's crucial point — that he is both in conscious control of his performance as well as emotionally affected by it — and the ways in which we have (or don't have) control over our own artistic and professional destinies. And, critically, the ways in which we can (should?) demand that our unions and professional support organizations do a better job of negotiating approaches to work that ensure opportunities are open to those outside of the old friends' network.
Most scholars view Ion as Plato's rebuke of the value of poetry to society, and while I think they're at least partially wrong, Ion continues to provoke questions about the ways that we think about our work, perhaps in ways that no contemporary performer of Plato's could have understood. It has been my privilege and pleasure to consider some of these questions with Joe and Jordan as I've directed Agora Theoria's production of Ion, and I hope you'll join us for our performances to share in the conversation.
originally published at modernphilologist.blogspot.com/2021/07/why-ion-still-matters.html

Why the Off Center?
Burlington's Off Center for the Dramatic Arts has nourished the work of every artist who has lived or worked in the greater Burlington, VT area for the past decade, including all of the (living) members of the Ion company. The Off Center is a not-for-profit performing arts venue that has been home to plays, musicals, music, dance, comedy, and experimental productions, and without it, most Burlington-area creators would be without an artistic home.
Like a lot of theatres across the country, the OC was forced to close its doors as the result of the COVID-19 pandemic. As their board works diligently to find a new home, we want to help them by offering our production of Ion as a benefit performance, to raise both funds and awareness for this necessary incubator for performance art. If you've read this far, please consider buying a ticket to Ion or making a donation directly to the Off Center via PayPal.